It's not uncommon for us to get gun shy when we hire the wrong person for a job the first – sometimes the second – time around.
There are a number of things you need to do in order to put your Virtual Sales Agent ( VSA ) in position to succeed: skills mastery, provide the right data, give them the best technology, etc.
Set up properly, you can have your VSA doing some real damage within 90 days of hiring them.
One of the most important things you can do to get your VSA producing consistently is to set up a call rotation – a sales prospecting strategy, if you will – for them to follow.
By having them follow a prospecting strategy, you can help them accomplish some great results in their prospecting efforts.
The good news is that none of the call strategies you'll implement to increase contact and conversion results for your VSA will cost you a penny.
In fact, quite the opposite…they'll help you make more money.
Here's a closer look at the ideal call strategy your VSA should follow for incredible success.
A five-pronged approach to strategic prospecting
Every aspect of your business needs a strategic plan and your VSA's daily prospecting is no different.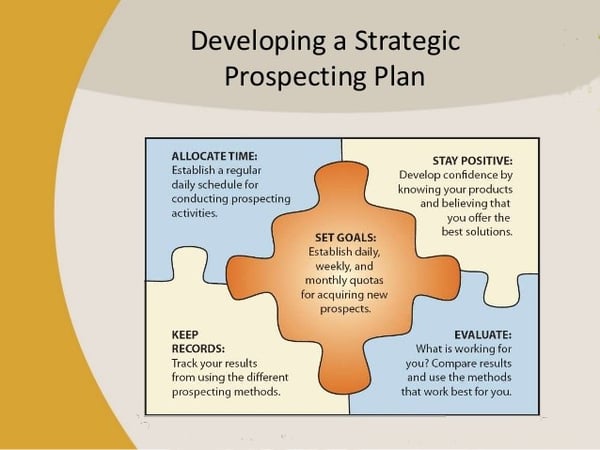 The best plan has five distinct aspects to it that you can employ easily and effectively whether your VSA has been with you for a while or is brand new.
It breaks down this way:
1. Allocate your VSA's time properly and give them a daily schedule to conduct their prospecting activities.
Your goal is to get six to seven hours of calling time from your VSA on a daily basis. Consistent call time of this magnitude gives your VSA enough time to make a significant number of contacts to yield both appointments and nurtures.
An ideal daily call rotation looks like this: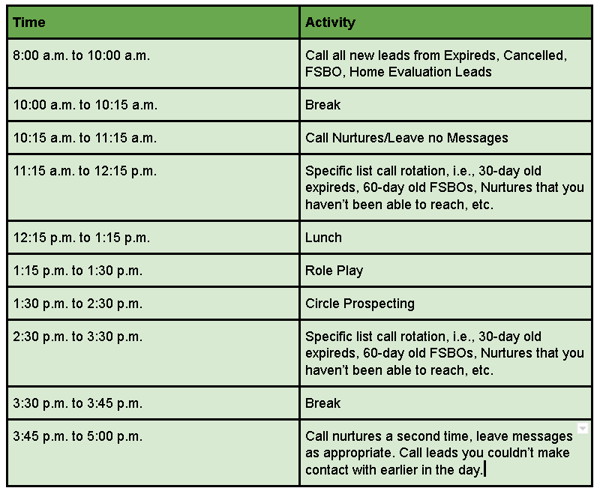 This rotation ensures that the hottest leads get the most attention at the best times of the day.
In addition to that, it provides your VSA with a system to follow to guarantee that all lead sources get the attention they need for optimal conversion opportunities.
Lastly, the repetitive nature of the schedule gives your VSAs brain the best chance to create some "muscle memory" in order to get into a prospecting grove not only during the day, but also on a day-over-day basis.
A rotation like this lends itself to extremely effective prospecting over time.
2. Keep records and track your VSA's results from their prospecting efforts.
At a minimum, you and your VSA should be tracking the following results on a daily basis:
Talk time: How much time was your VSA actually talking with prospects on the phone?
Dials: Total number of unique numbers that were dialed for the day.
Contacts: Total number of people spoken to about buying and selling a home. The gross number of people made contact with can be separated out from the number of true homeowners that were contacted each day. The goal is to have as many conversations with the person who owns the home and/or is the decision maker at the house.
Nurtures: How many people did your VSA identify as looking to sell over the next year and not being committed to an agent? We'd like two a day here.
Appointments: How many qualified appointments were set with a completed seller counseling interview? We want no less than three and hopefully five per week.
This is the basic set of data you want know the results for on a day-over-day basis.
As well, tracking this information needs to be mandatory for your ISA to do each day. Without this critical information, you'll never be able to make necessary improvements to your VSA's overall outcomes.
Once you can string together a month's worth of calls (roughly 21 days of calling), you'll be able to notice some trends that give you the opportunity to make adjustments in the data, skills, effort and technology that apply to your VSA's daily tasks.